HOME PAGE
Click here for Village Hall booking information

December 2016

Welcome to the Betchworth Parish Council website. Hopefully you will find this site useful in finding out what goes on in your parish such as the latest village news, local organisations and issues that impact on the parish. You will find it very easy to navigate with the main areas covered on the menu bar at the top and the content of each area on the left-hand side. You will also find many useful links to other sites.

---
Welcome to our new Clerk, Marion Hallett. Prior to moving to Betchworth, Marion lived in London and worked as a PA in the private sector for a number of years. She is very fond of Betchworth and enjoys being part of the village community. Marion and her husband Tim have two young children who attend the local school.

---
Betchworth now has its own public access defibrillator - situated outside the village hall. For more information click here.
---
Have you joined the village-wide email group? Click here to find out how to register.
Goulburn Green Play Provision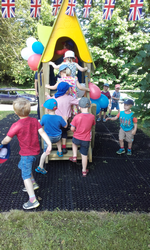 Betchworth Parish Council officially opened the swings and slide unit on Goulburn Green on the morning of 9th June, with five children from the Betchworth and Buckland Children's Nursery sharing the honour of cutting the ribbon, overseen by Councillors Julie Hardy and Charmian Stow. All the nursery school children then got a chance to try out the equipment, as did reception year children from North Downs Primary School – Betchworth site.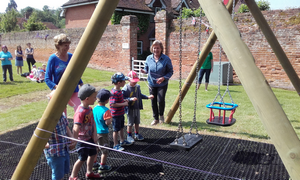 The opening was the final stage in a long process, which began two years ago when the parish council was asked to look into the possibility of a small play provision on the Goulburn Green. A public meeting was held in September 2015 followed by a village wide-vote, which was resoundingly in favour of the proposal. A deed of variation permitting the equipment to be sited on the green was approved by Mole Valley's Development and Control committee in January this year, and grant applications for play provision funding from Mole Valley in April.

The wooden swing and slide unit from play equipment specialists eibe were finally installed at the beginning of June. As well as grant funding the parish council is also grateful for a contribution from the Betchworth and Buckland Society. Councillor Julie Hardy commented that "we hope that this play equipment will be enjoyed by children in the village for many years to come."